Welcome to the website of the 2010 ACS Crossroads Conference
Conference programme Book (excl abstract) ready to download.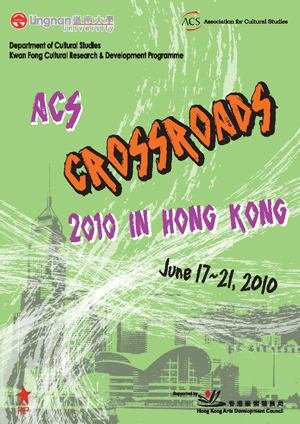 The 8th Crossroads in Cultural Studies Conference will be held in Hong Kong during June 17 – 21, 2010. Hosted by Lingnan University and organized by its Department of Cultural Studies and Kwan Fong Cultural Research and Development Programme, this is the first Crossroads Conference to be h eld in East Asia.
Started in 1996 in Tampere, Finland, the Crossroads Conferences were to fill what was felt to be a gap in the international cultural studies community. Since then it had become one of the most important international conferences in cultural studies where scholars from all five continents get together to exchange their scholarly insights as well as to get in touch with different cultures. Organized by the Association for Cultural Studies (ACS), Crossroads conference is now held every two years in different parts of the world: Birmingham in UK, Illinois in US, Istanbul in Turkey and Kingston in Jamaica.
Invited Speakers